Products
Marine Use
Control Consoles
We can tailor to fit a broad range of requirements from advanced systems utilizing computer networks that can support unmanned vessels and streamlined ships to more economically simplified vessels. By installing a LAN access point in the engine room or elsewhere it is possible to view all data logger screens on a mobile PC.
In addition, we design and manufacture the consoles in-house, which means we can provide a variety of console configurations to suit our customers' needs.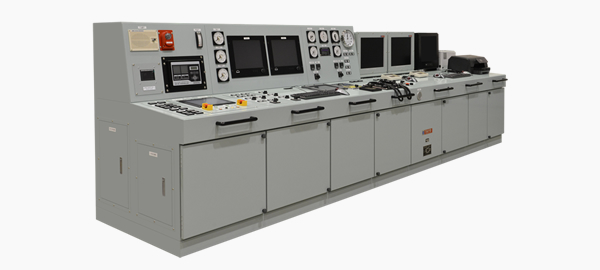 Standard Specifications
Applicable standards
NK, LR, ABS, DNV GL, BV, CR, CCS, other classification society standards, JIS, JEC, JEM, JCS, IEC
Environmental conditions
Ambient temperature: 45℃ Humidity: 95%RH
Voltage rating
100V class, 200V class
Frequencies
60Hz,50Hz
Console types
Desk-type (front maintenance, front and rear maintenance)
Free-standing (front maintenance, front and rear maintenance)
IP codes
IP20, IP21
*Specifications other than the standard specifications are also supported. Please inquire for details.
Alarm Monitoring System
It is possible to monitor the status of the main engine and various auxiliary machines, monitor the engine status while watching the control graphic screen, and monitor the status of the generator. In addition, it is equipped with motor control and valve control systems. Also, it is possible to collect data onboard and transmit it to external equipment via serial or Ethernet communication making it easy to retrieve ship-land intercommunication system data.
Standard display screen
Group display/alarm display/alarm history display/trend graph display/bar graph display/emissions deviant temperature display/meter display/free group display
*Information required for ship navigation can easily be switched to and monitored.
Print function
Print warnings/print logs/print screen copies
Available Control Panels /Lineup