Company Profile
Taiyo Electric contributes to societal development by supplying high quality and environmentally friendly products and conducting corporate activities with our "sanritsu" business approach of manufacturers, sellers, and users cooperating and harmonizing to seek unlimited mutual prosperity.

In addition to conducting corporate activities, Taiyo Electric is keenly aware of its position as a member of international society as a leading global corporation in marine and industrial electric machinery, and conducts corporate social responsibility activities by supporting society as a good corporate citizen constantly keeping in mind our corporate social responsibilities.
We are building a relationship of trust with society by partaking in ethical business activities aiming to achieve a wealthy and sustainable society.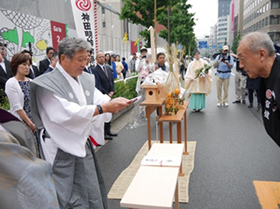 Kanda Shrine parishioner representative
Shinzo Yamada
2017 Kanda Festival in front of the Taiyo Electric Headquarters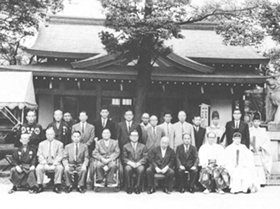 In front of the Ofudasho at Kanda Shrine.
Hisaji Yamada, 4th from the left, front row
Takuzo Yamada, 6th from the left, back row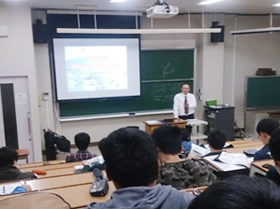 Our company's engineers hold lectures at colleges and universities.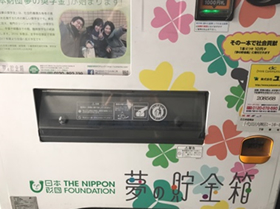 We conduct donation activities by participating in the "Piggy Bank of Dreams" run by The Nippon Foundation.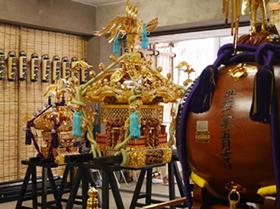 Headquarters 1st floor: Used as a rest stop for the Kanda Tsukasa-cho mikoshi parade float. The "mitamaire" ceremony is held here.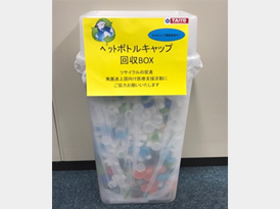 Implementing ecological bottle cap activities.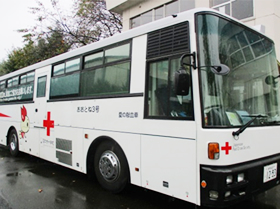 Blood donation activities at the Gifu and Gunma offices.