Company Profile
Our corporate policy is comprised of four elements: Corporate Philosophy, Business Approach, Course of Action, and our Creed.
In this rapidly changing society, our fundamental corporate policy of manufacturing reliable products and continuing to exceed customers' expectations remains constant.
We feel sharing the spirit behind the founding of our company is important to create a bedrock that all executives and employees can revisit, thus we have set forth a corporate policy for the future development of the company based on the spirit of the Business Approach and Course of Action that have been in place since the company's establishment.
Corporate Philosophy
All of the employees at our company respect and share a belief in the following corporate policies.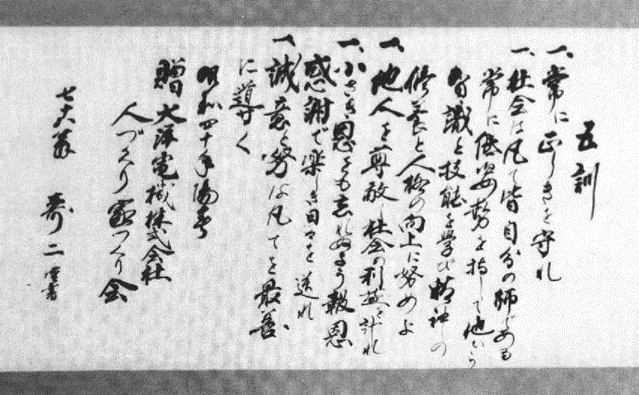 Corporate Philosophy
Supply high quality and environmentally friendly products and contribute to societal growth through first-rate service.
Business Approach
Manufacturers, sellers, and users cooperate and harmonize seeking unlimited mutual prosperity.
Course of Action

Always do what is right.
Society is a teacher for everyone. Always maintain the humbleness to accept knowledge and learn techniques from others working to improve the refinement and character of your spirit.
Respect others and think about the benefits of society.
Don't forget to have gratitude for even the smallest things, and spend your days filled with fun and appreciation.
Sincerity and effort lead to the best results.
* About our Business Approach (called "sanritsu" in Japanese)
"Sanritsu" is a word our founder, Hisaji Yamada used as a guiding principle throughout his life. The names of Taiyo Electric's previous incarnation, Yamada Sanritsusha, and the name of one of our group companies, Sanshin Electric Corporation, are all derived from this three-pronged business approach which defines the spirit of Taiyo Electric.
Creed
All of the employees at our company respect and share a belief that Taiyo Electric employees should behave in the manner prescribed by the following human resources philosophy.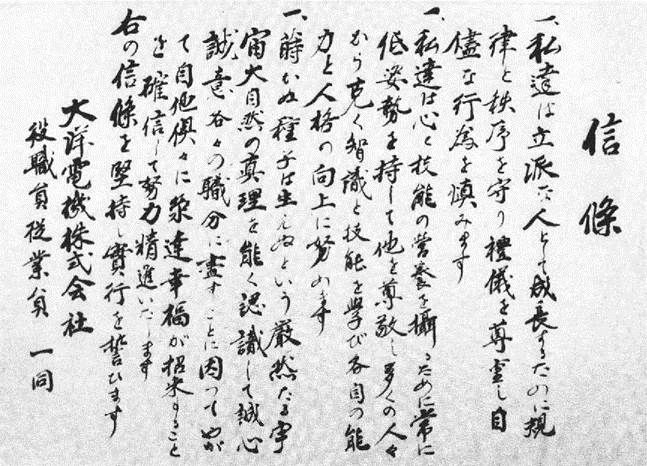 So that we may grow as respectable people, we abide by discipline and order, respect decorum, and will refrain from acts of selfishness.
In order to better our minds and skills, we shall always maintain a humble attitude and respect others so that we may learn from the knowledge and skills of as many people as possible while seeking to improve our own abilities and characters.
We maintain an awareness of the universal natural truth that one cannot reap what is not sown, and the confidence that as we continue in our efforts, earnestly committing ourselves to our work will lead to prosperity and happiness for ourselves and others.